From:Ministry of Defence and The Rt Hon Ben Wallace MP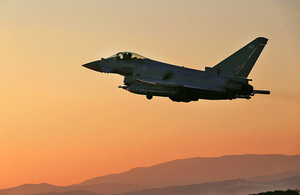 Summary
Wednesday 10 March – RAF Typhoons struck Daesh terrorists based inside caves in northern Iraq.
Thursday 11 March – Typhoons conducted further attacks on Daesh in northern Iraq.
Friday 12 March – Typhoons struck Daesh targets in caves in northern Iraq.
Sunday 14 March – Typhoons again attacked Daesh-held caves in northern Iraq.
Detail
The Royal Air Force has continued to conduct strikes, as part of the global coalition's support for the Iraqi Security Forces, as they conduct operations to prevent the Daesh terrorist group from re-establishing its presence in the country.
The Iraqi forces recently identified a significant number of Daesh fighters using cave complexes south-west of Erbil. The caves identified were assessed to be particularly difficult targets and two RAF Typhoon FGR4s were therefore tasked to conduct strikes in support of ground forces from the highly-capable Iraqi Counter-Terrorism Service.
On Wednesday 10 March they conducted surveillance of the area to confirm that there were no signs of civilians who might be placed at risk, before conducting the first attack using Storm Shadow missiles, which had been selected as the most appropriate weapon for the task. Following the mission, the Typhoon's weapons were confirmed to have struck their targets precisely.
Further surveillance efforts confirmed two additional locations in the same area were also occupied by Daesh. Two Typhoons conducted precision attacks on the extremists at both locations on Thursday 11 March, using six Paveway IV guided bombs.
RAF aircraft were again in action on Friday 12 March, when they struck another group of caves used by Daesh, with eight Paveway IV bombs; and again on Sunday 14 March, when six Paveway IVs were employed against Daesh-held caves in the same remote, mountainous area.
On each occasion, our aircrew have exercised their utmost care in checking there were no signs of civilians in the area before conducting the strikes and subsequent surveillance to ensure their successful completion.
Previous update
The UK Armed Forces have once again conducted air strikes in support of the Iraqi security forces, as the Global Coalition against Daesh continues to prevent a terrorist resurgence in Iraq. On Thursday 11 February, two Royal Air Force Typhoon FGR4s were tasked to conduct strikes against terrorists who had been identified occupying two dispersed encampments on the banks of the Tharthar River, west of the city of Bayji.
A preceding check of the area revealed there were no signs of any civilians who might be placed at risk and the RAF aircraft proceeded to conduct the strikes using Paveway IV guided bombs. Further surveillance of both sites confirmed that the series of different targets within the encampments were struck and the mission had been a success.