From UKGov/ Department of Transport
How HGV drivers get their COVID-19 test before leaving the UK for France.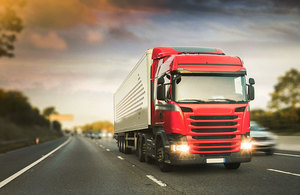 Kent travel update, 4 January 2021
Thanks to the support of the army, the backlog of HGVs in Kent has been cleared and hauliers making their way to Dover and the Eurotunnel continue to be tested swiftly and safely.
Drivers should check @KentHighways and Highways England for the latest traffic updates before travelling to Kent.
Covid testing
HGVs leaving England for France can only cross the Channel with evidence of an authorised negative COVID test, that has been conducted within the 72-hour period before their departure.
This is mandated by the UK and French governments.
We strongly urge HGV drivers heading to the Port of Dover to ensure they have a negative COVID test before travelling to Kent.
Free COVID-19 tests for drivers of HGVs, LGVs and vans are available at some haulier information and advice sites. Testing will be available at more sites soon.
Find the nearest haulier advice site offering Covid testing.
HGV drivers using Dover and Eurotunnel will get fast-tracked past queues if they get tested, and have a valid Kent Access Permit, before arriving in Kent.
COVID testing facilities are still available at Manston Airport (Postcode CT12 5FF) for HGV drivers heading to Port of Dover.
Eurotunnel traffic must continue to go via the M20, where HGV drivers without a negative test result or a valid Kent Access Permit will be directed to Ashford Sevington.
Significant queues for tests in these locations are likely. All drivers heading for France are urged to obtain tests before arriving in Kent and travelling to ports.
COVID testing is not available at any medical facility in the Kent area. If you visit a medical facility you will be turned away.
You must not leave your vehicle to try and be tested at another site.
Once tested, it will take 40 minutes to get a result.
If your result is negative, you will be directed to your departure point.
If your result is positive, further information will be provided on site and support will be available.
We are doing everything we can as quickly as possible to help you continue on your journey. Thank you for your patience.
Kent Access Permits
HGV drivers must have correct documentation, including Kent Access Permits, before arriving in Kent to ensure they can cross the Channel.